by
Scott Reintgen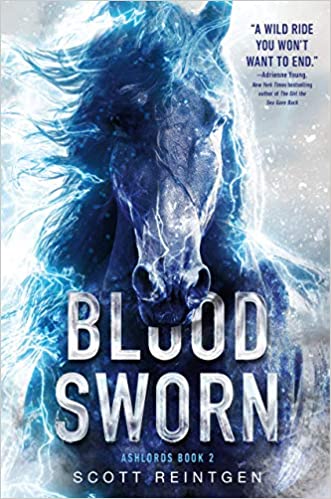 Bloodsworn
Published by
Random House Children's Books
on 2021
Source:
Netgalley Arc
Genres:
Young Adult Fiction
,
Action & Adventure
,
Survival Stories
,
Animals
,
Horses
,
Fantasy
,
General
Pages:
400
Find the Author:
Website
,
Twitter
,
Goodreads
,
Amazon
Format:
Ebook Arc
Buy on Amazon
Goodreads

Three cultures clash in all out war--against each other and against the gods--in the second book of this fantasy duology that's sure to capture fans of The Hunger Games and An Ember in the Ashes.
The Races are over. War has begun.
Ashlord and Longhand armies battle for control of the Empire as Dividian rebels do their best to survive the crossfire. This is no longer a game. It's life or death.
Adrian, Pippa, and Imelda each came out of the Races with questions about their role in the ongoing feud. The deeper they dig, the clearer it is that the hatred between their peoples has an origin point: the gods.
Their secrets are long-buried, but one disgruntled deity is ready to unveil the truth. Every whisper leads back to the underworld. What are the gods hiding there? As the sands of the Empire shift, these heroes will do everything they can to aim their people at the true enemy. But is it already too late?
"A page-turning inferno of a book." -- Stephanie Garber, #1 New York Times bestselling author of the Caraval series
Review
An amazing duology focuses on phoenix horses created by an elemental mixture of powders and some that take your blood as part of that. The big thing about the phoenix horses is that they disappear when the sun goes down. The first book in this series centers around these unique races with the phoenix horses, and book two revolves around a major war that was brewing under the surface in book one. Adrian, Pippa, and Imelia are back home with their families and are on opposite sides of this war. The story is told in alternating points of view between these characters as they fight to reshape this world that has been influenced by the gods for so long. I think this story's complexity and originality will appeal to both young adult and adult readers. The story is complete, but I would love to see more from this world.
Gods and magic play a huge role in theis story revolving around phoenix horses that turn to dust at sunset. Ashlords and Bloodworn by @ Scott_Thought check out my review of bloodsworn out February 19, 2021
Click To Tweet
Rating Report
Plot
Characters
Writing
Pacing
Cover
Overall:
4.5
Related Posts