by
Amanda Foody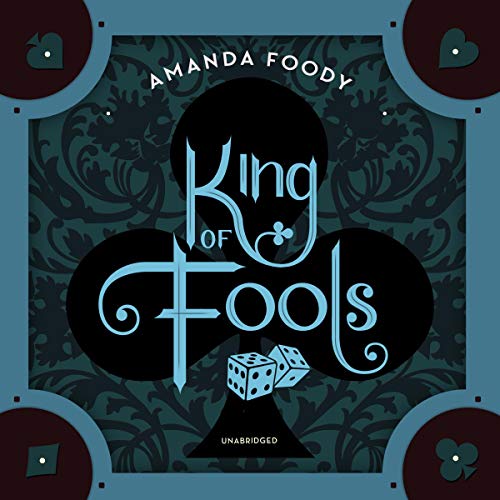 King of Fools
Narrator:
Saskia Maarleveld
Length:
18
Published by
Harlequin
on April 30, 2019
Genres:
Young Adult Fiction
,
Fantasy
,
Dark Fantasy
,
Law & Crime
,
Epic
,
Mysteries & Detective Stories
Pages:
304
Find the Author:
Website
,
Twitter
,
Goodreads
,
Amazon
,
Instagram
Buy on Amazon
Goodreads

"Ace of Shades has it all …an utter delight."—Claire Legrand, New York Times bestselling author of Furyborn
"A rich, satisfying, complicated story. One of the best fantasy series I've read in years."—Christine Lynn Herman, author of The Devouring Gray
The stunning sequel to ACE OF SHADES, the first book in Amanda Foody's SHADOW GAME series. Indulge your vices in the City of Sin, where a sinister street war is brewing and fame is the deadliest killer of them all...
Prim and proper Enne Salta never expected to team up with Levi Glaiyser, the City of Sin's most famous con man. But winning the Shadow Game was not the victory they imagined, as now the duo are wanted for murder and Enne is forced to live in disguise as Séance, a mysterious figure of the underworld.
Thirsting for freedom and the chance to build his empire, Levi makes a deal with the estranged son of Mafia donna Vianca Augustine, while Enna remains trapped by Vianca's binding oath, unsure which of which role to truly embrace: refined lady or cunning street lord?
As Enne and Levi walk a path of unimaginable wealth and opportunity, a dangerous game of crime and politics swirls around them. And when unforeseen players enter, they must each make an impossible choice: sacrifice everything they've earned in order to survive...
Or die as legends.
Review
The plot of King Fools revolves mostly around political elections. Both Levi and Enne get tangled on opposite the New Reynes Election sides. The two each debt themselves to helping someone else win and are offered more than they could dream of achieving. The politics of New Reynes is what makes this series so addictive you never know who to trust, and everyone wants to be in power.
Like the first book, this one is told from Anne, Jack, and Levi's alternating perspectives. We see how each character's development interplay with the others and how their storylines play out with having these three perspectives. Amanda foody expanded the world of New Reynes in this book and expanded on her characters' depth. It is an excellent sequel with an intense plot filled with twists and turns that leave you wanting more. Up next Queen of Volts, the third and final volume in the Shadow Game Series.
A book about gambling, luck, murder and weighing the risks of opportunities against death. Staying one strap ahead of your oppentant in a deadly shadow game surrounded by legend, history and superstition. Check out my review of…
Click To Tweet
Rating Report
Plot
Characters
Writing
Pacing
Cover
Overall:
5
Related Posts