Amanda Foody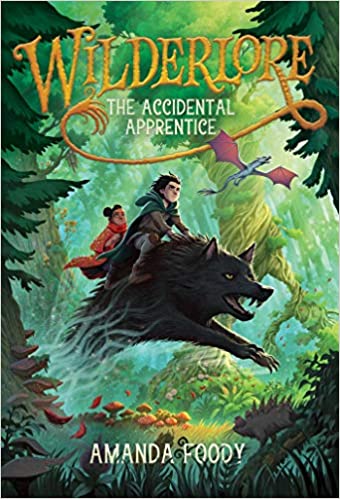 The Accidental Apprentice
Series:
Wilderlore #1
Published by
Simon and Schuster
on March 30, 2021
Source:
Owned Hardback
Genres:
Juvenile Fiction / Action & Adventure / General
,
Juvenile Fiction / Fantasy & Magic
,
JUVENILE FICTION / General
Pages:
304
Find the Author:
Website
,
Twitter
,
Goodreads
,
Amazon
,
Instagram
Format:
Hardcover
Buy on Amazon
Goodreads
A boy who accidentally bonds with a magical Beast must set off on an adventure in the mysterious Woods in this "wholesome, delightful" (Kirkus Reviews, starred review), and cheeky middle grade fantasy debut—perfect for fans of Nevermoor and How to Train Your Dragon.

The last thing Barclay Thorne ever wanted was an adventure.

Thankfully, as an apprentice to the town's mushroom farmer, Barclay need only work hard and follow the rules to one day become the head mushroom farmer himself. No danger required. But then Barclay accidentally breaks his town's most sacred rule: never ever EVER stray into the Woods, for within the Woods lurk vicious magical Beasts.

To Barclay's horror, he faces a fate far worse than being eaten: he unwittingly bonds with a Beast and is run out of town by an angry mob. Determined to break this bond and return home, Barclay journeys to find the mysterious town of Lore Keepers, people who have also bonded with Beasts and share their powers.

But after making new friends, entering a dangerous apprenticeship exam, and even facing the legendary Beast of the Woods, Barclay must make a difficult choice: return to the home and rules he's always known, or embrace the adventure awaiting him.
Review
Barclays Thorne lives in Dullsville, which sounds like as much fun as it could not possibly be. The number of rules is so stifling that he is bound to have broken a rule or two before he even had breakfast, no matter what Barclay does. Barclay is an apprentice to a mushroom farmer as his parents died after a beast attacked his village. One day while out in the woods looking for a very rare mushroom, what he never would want to happen to him happens. He is accidentally bonded with a beast and now is on the path to becoming a lore keeper who blames his parents' death. The uniqueness of the magic system, the variety of beasts, and the non-action make this an incredible read. I loved everything I ever read by Amanda foody. She weaves impeccable stories that grab you with characters with a ton of depth. I can not wait to continue the adventure in the next book.
Related Posts
by