by
Amanda Foody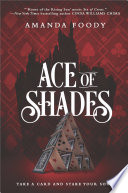 Ace of Shades
Length:
12 hours
Published by
Harlequin
on April 10, 2018
Source:
Netgalley Arc
Genres:
Young Adult Fiction
,
Fantasy
,
Dark Fantasy
,
Action & Adventure
,
General
,
Fiction
,
Dystopian
Pages:
304
Find the Author:
Website
,
Twitter
,
Goodreads
,
Amazon
,
Instagram
Format:
Audiobook
Buy on Amazon
Goodreads

"Ace of Shades has it all …an utter delight."—Claire Legrand, New York Times bestselling author of Furyborn
"A rich, satisfying, complicated story. One of the best fantasy series I've read in years."—Christine Lynn Herman, author of The Devouring Gray
A 2019 YALSA Best Fiction for Young Adults PickA 2019 YALSA Teen Top Ten Fiction Nominee
Welcome to the City of Sin, where casino families reign, gangs infest the streets…and secrets hide in every shadow.
New Reynes, the so-called City of Sin, is no place for a properly raised young lady. But when her mother goes missing, Enne Salta must leave her finishing school—and her reputation—behind to follow her mother's trail in the city where no one survives uncorrupted.
Frightened and alone, Enne's only clue leads her to Levi Glaiyser—a street lord and a con man in desperate need of the compensation Enne offers. Their search sends this unlikely duo through glamorous casinos, illicit cabarets, and into the clutches of a ruthless Mafia donna. But as Levi's enemies close in on them, a deadly secret from Enne's past comes to light and she must surrender herself to the City of Sin — to a vicious game of execution…
Where the players never win.
Review
Welcome to the delicious underbelly city of New Reynes. Meet N has come to town with a guidebook that tells her where to go and where not to. She on a mission to find her Mother. What she uncovers is so much more than that. The Shadow Game world is so unique and exciting. You have split talents, and the currency of this world is in volts, which can be held in spheres or hidden under your skin, which I don't recommend.
Enne has been sent to meet Levi Glaisyer by a letter from her Mother. Enne must navigate this world of greed, gluttony, casinos, drugs and uncovered what has happened to her. The world-building for this world is set up in this first book with lots of info about mixers and monarchists, talents of aptitude, talents of mysteries, and the battle between the different talents. Not a lot of in-depth about them but the bases of what is going on in this world when we meet Enne as she is trying to navigate New Reynes.
I was fascinated with all the world-building and hope the next couple of books go more in-depth. I listened to this series as an audiobook as I needed a refresher for the first book, and this is one series that is pulled off well in audiobook format.
It's time to play. #Shadowgameseries #AmandaFoody #Aceofspades #2021audibookchallenge
Click To Tweet
Rating Report
Plot
Characters
Writing
Pacing
Cover
Overall:
5
Related Posts