by
Kristin Cashore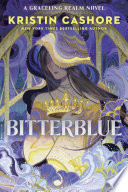 Bitterblue
Published by
Penguin
on 2013
Source:
Owned Hardback
Genres:
Young Adult
,
Royalty
,
Fantasy & Magic
,
Young Adult Fiction
,
Fantasy
,
Epic
,
Romance
,
General
Pages:
563
Find the Author:
Website
,
Blog
,
Twitter
,
Goodreads
,
Amazon
,
Instagram
Buy on Amazon
Goodreads

Enter the Graceling Realm and let it work its magic in this unforgettable novel from New York Times bestselling author Kristin Cashore.
When Queen Bitterblue took the throne of Monsea, she was a child, and her advisers ran the kngdom for her. Now she is beginning to question their decisions, especially how they handle the legacy of her father Leck, who who ruled through his Grace--a special talent for mind-altering--and his taste for darkness and violence. Bitterblue needs to know Monsea's past to lead it into the future, so she begins exploring the city sreets at night, disguised and alone. As she does, she meets two thieves, who hold a key to the truth of Leck's reign. And one of them, with a Grace that he hasn't yet identified, holds a key to her heart.
Bitterblue is a gateway to the Graceling Realm that braids together magic, memory, and romance.
Look for Kristin Cashore's highly-anticipated standalone novel, Jane, Unlimited
"Some authors can tell a good story; some can write well. Cashore is one of the rare novelists who do both. Thrillingly imagined and beautifully executed, Bitterblue stands as a splendid contribution in a long literarly tradition." --The New York Times Book Review on Bitterblue
* "Brilliantly detailed and brimming with vibrant and dynamic characters." --SLJ, starred review of Bitterblue
"There are some books that stick with you for years, and Kristen Cashore's Fire is one of them. Thoughtful, steamy and completely original, Fire is YA fantasy at its absolute best."--Sabaa Tahir, author of New York Times bestselling Ember in the Ashes on Fire
A New York Times bestsellerALA Best Fiction for Young AdultsA Publishers Weekly Best Book of the YearA Kirkus Reviews Best Book of the YearA BCCB Blue Ribbon Title
Review
Oh, Bitterblue, what a jumbled mess you're farther left for you to pick apart and decipher. Leck had the grace of telling lies that could be believed, and with this grace, he destroyed a whole kingdom and life of Bitterblue's mother. In this third novel of the Graceling Realm, we dive into the very heart of Bitterblue's character and her empire. Bitterblue knows nothing of her castle, the people in her land, or just how deeply the roots of Leck's rottenness run. I love Bitterblue so much as a character and at times wished I could step in and open her eyes to what was lying underneath all that she was not seeing. There a lot to unpack in the 500 plus pages of this novel, and it worth every page and so glad that I read it when I did as the next novel is due out January 19, 2021, and I am so ready for it.
"But that how memory works," Things disappear without your permission, they come back again with your permission. And sometimes they come back incomplete and warped.
Click To Tweet
About Kristin Cashore
Kristin Cashore grew up in the northeast Pennsylvania countryside as the second of four daughters. She received a bachelor's degree from Williams College and a master's from the Center for the Study of Children's Literature at Simmons College, and she has worked as a dog runner, a packer in a candy factory, an editorial assistant, a legal assistant, and a freelance writer. She has lived in many places (including Sydney, New York City, Boston, London, Austin, and Jacksonville, Florida), and she currently lives in the Boston area. Graceling, her first book, was an ALA Best Book for Young Adults. Fire is her second book.
Related Posts