by
James J. Butcher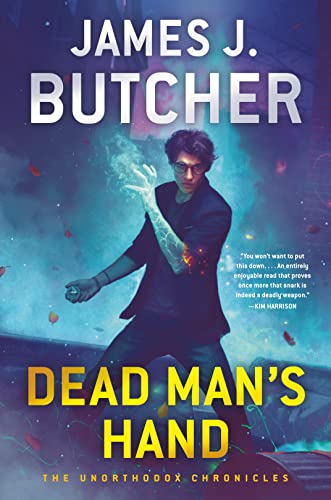 Dead Man's Hand
Published by
Penguin
on October 11, 2022
Genres:
Fiction / Fantasy / Action & Adventure
,
Fiction / Fantasy / Contemporary
,
FICTION / Fantasy / Urban
Pages:
384
Find the Author:
Goodreads
,
Amazon
Goodreads
In the tradition of his renowned father, James J. Butcher's debut novel is a brilliant urban fantasy about a young man who must throw out the magical rule book to solve the murder of his former mentor.

On the streets of Boston, the world is divided into the ordinary Usuals, and the paranormal Unorthodox. And in the Department of Unorthodox Affairs, the Auditors are the magical elite, government-sanctioned witches with spells at their command and all the power and prestige that comes with it. Grimshaw Griswald Grimsby is…not one of those witches.

After flunking out of the Auditor training program and being dismissed as "not Department material," Grimsby tried to resign himself to life as a mediocre witch. But he can't help hoping he'll somehow, someway, get another chance to prove his skill. That opportunity comes with a price when his former mentor, aka the most dangerous witch alive, is murdered down the street from where he works, and Grimsby is the Auditors' number one suspect.

Proving his innocence will require more than a little legwork, and after forming a strange alliance with the retired legend known as the Huntsman and a mysterious being from Elsewhere, Grimsby is abruptly thrown into a life of adventure, whether he wants it or not. Now all he has to do is find the real killer, avoid the Auditors on his trail, and most importantly, stay alive.
Review:
I am a fan of Jim Butcher Dreseden's files, so how could I not pick up the son's books to see how the child does. I have to say the first book is like The Dresden Files in a way, but its uniqueness kept me reading. I especially liked two lines that were nods to other readers. One way we can't just walk up and ask to Prepare to die (princess bride), and the second was it's a Jabber Wocky Kind of day (Alice in Wonderland). I thoroughly enjoyed the characters, the action, and the magic. I thought Wudge's troll-like character was a fun addition to the cast of characters. I recommend this to those who like urban fantasy, the "buddy cop" trope, and his father's works, Dresden Files.
@AceRocBooks "are you having a jabber wocky kind of day?" Check out my review Deads Man hand by James J. Butcher. And watch for my review book of two. #newreads #newauthors
Click To Tweet
Related Posts