Amy Flanagan
Mrs R. Snugglesworth - Attorney at Law
Published by
Amy Flanagan
on June 9, 2022
Source:
Childrens Book Review Tour
Pages:
96
Find the Author:
Website
,
Twitter
,
Amazon
,
Instagram
Goodreads
Mrs. R. Snugglesworth is 70 pounds of low-to-the-ground PRECIOUS. She is The Best at Finding Slightly Used Sandwiches and The Best at Loving Ham- and now she's looking for her next big challenge. To her surprise, she finds it at the local Bark Park, when she stumbles into the canine legal system and discovers a passion for the law. Dog law, that is.In two wags of a tail, she enrolls at Wagsworth Legal Academy, eager to earn her degree.Turns out it's not that easy learning to be The Best at Law School, but Mrs. R. is confident she will be a success. So when she finds out her dear friend Pitter-Patter needs her help, she can't wait to take on her first case. Only one small issue: she hasn't quite finished getting her law degree.Some dogs might see this as a problem, but not Mrs. R! After all, Pitter-Patter really needs a lawyer, and she is ALMOST a lawyer, which everyone knows is justas good as BEING a lawyer, right? She'll just juggle her Wagsworth legal classes, naps, walks, naps, chasing tennis balls, snacks, naps and work on Pitter-Patter's case at the same time! What could possibly go wrong?
Review:
Mrs. R. Snugglesworth, Attorney-at-Law, is written from a dog's perspective; I was quickly absorbed into the Dog's Life – joyful, carefree, and present – precisely what I needed to read with my son at bedtime. A dog passionate about the law, dog law anyway, and soon she finds a reason to keep trying to achieve her goal. A dear friend desperately needs help, so she must finish what she started.
Though this is a chapter book, the chapters are short and include some fun illustrations to keep those who may not love chapter books reading. The internal dialogue of Mrs. R. Is well done and perfectly captures the energy of a loyal, loveable dog. An excellent read for children and adults.
Giveaway: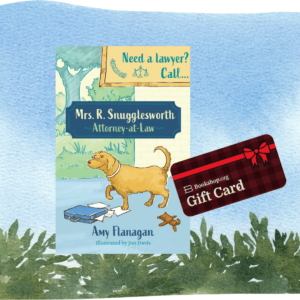 Enter for a chance to win a signed copy of Mrs. R. Snugglesworth, Attorney-at-Law, and a $50 gift card to bookshop.org*.
One (1) grand prize winner receives:
An autographed copy of Mrs. R. Snugglesworth, Attorney-at-Law
A $50 Bookshop.org or typebooks.ca gift card*
Four (4) winners receive:
An autographed copy of Mrs. R. Snugglesworth, Attorney-at-Law
Mrs. R. Snugglesworth: Book Giveaway
Related Posts
by