Anthony D. Grate
,
Anthony J. Rapino
Tommy and the Order of Cosmic Champions
Published by
Greenleaf Book Group
on October 18, 2022
Source:
Childrens Book Review Tour
Genres:
Young Adult Fiction / General
Pages:
392
Goodreads
Sometimes our greatest moments of enlightenment come from our worst mistakes.

​When life supplies eleven-year-old Tommy Grant with some unfavorable circumstances intruding on his otherwise tranquil life in Ohio, he retreats into the spell-binding Order of Cosmic Champions. When he discovers that the largely successful animated program and toy line is holding a nationwide "Create-A-Character" contest where applicants submit their action figure designs, Tommy knows he has to enter as surely as he knows his own name.

But when Tommy's character design fails to win the contest, he finds his world crumbling from all sides. And there is only one way he knows to fix it.

What follows is a whirlwind coming-of-age adventure of righting wrongs, overcoming perilous obstacles, confronting our inner demons, and challenging the limits of reality. In this waxing nostalgic and imaginative fantasy, readers will discover what excitement lies waiting when you take risks and conquer your fears. Only one question remains: In the final hour when you heed the call, the courage to give your all, will you stand or fall?
Review:
Tommy and the Cosmic order of Champions is a coming-of-age middle-grade novel that will appeal to those who have a love for comic books and video games.
What starts as a way to deal with the stresses of home life and bullying at school transforms into Tommy's beloved characters speaking to him and eventually even coming to life to interact with him. The solution to the whirlwind of Tommy's life? A trip that will take Tommy across state lines and through life experiences you can't get sitting alone in your room. This book deals with severe issues that could trigger some readers, such as neglect, intense bullying by classmates, and divorce.
Filled with easter eggs, references, and brimming with nostalgia, Rapino writes Tommy and the OCC in a way that will appeal to readers of all ages.
Giveaway: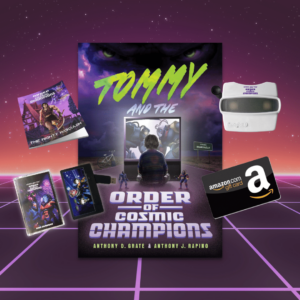 Enter for the chance to win an exciting Tommy and the Order of Cosmic Champions prize pack—including an Amazon digital gift card!
Five (5) grand prize winner receives:
– A hardcover copy of Tommy and the Order of Cosmic Champions
– A $35 Amazon Digital Gift Card
– The Novel Soundtrack on USB/Cassette
– A View-Master w/Reel
– A Mini Comic
Ten (10) winners receive:
– A hardcover copy of Tommy and the Order of Cosmic Champions
Tommy and the Order of Cosmic Champions Book Giveaway
Related Posts
by