Chris Wieland
The Crabtree Monsters
Published by
Smart Aleck Press
on May 12, 2022
Source:
Childrens Book Review Tour
Genres:
Juvenile Fiction / Girls & Women
,
Juvenile Fiction / Law & Crime
,
Juvenile Fiction / Mysteries & Detective Stories
Pages:
384
Find the Author:
Website
,
Twitter
,
Facebook
,
Amazon
,
Instagram
Format:
Paperback
Buy on Amazon
Goodreads
Moving from Los Angeles to tiny Crabtree, Michigan, is the last thing thirteen-year-old Kat Dylan wants to do. Crabtree's seen better days and isn't what you call welcoming. Worse, the move means living with her gruff Grandpa Nick, the town's police chief, and having to look after her little brother, Alec.

And that's before Kat and Alec find themselves in the middle of a bank holdup by the Monster Gang-four robbers in monster masks. Before the heist is over, the kids lose their cash and Alec comes within a hair of losing his life. When it is all over, Grandpa Nick goes to jail, accused of being one of the robbers himself.

Suddenly, this boring little town isn't so boring anymore. Kat's determined to find out who the men are behind the masks, and she's going to need help. But exposing the robbers could have big consequences. The deeper Kat goes, the more she learns life is about making choices, including some that are a matter of life and death.
Review:
Do you have a middle-grade mystery-loving detective reader that you know? If so, then you need to recommend the Crabtree monsters. A perfect attention-grabbing story about 13-year-old Kat Dylan, who was forced to move to a tiny town with a ridiculous name and live with her grandpa and take care of her brother Alec. When the unexpected happens, her grandpa ends up in jail, being accused of being part of a gang that robbed a bank. Suddenly Crabtree is not as boring as it seems.
In the first book in a middle-grade series, author Wieland sets us up with situations anyone can relate to, parents divorcing, moving to a strange town, and relatives we don't necessarily know or get along with. Kat is a character you want to cheer for as she becomes involved in the case and tries to help get to the root of who robbed the bank.
Overall, this is an innovative, fun read for any age with a strong female character that will speak to any reader who (rightly) thought they were more intelligent than the adults around them.
Giveaway: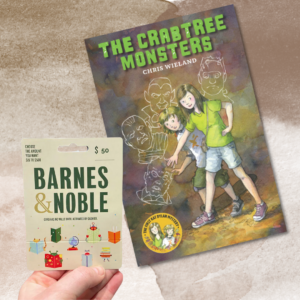 Enter for a chance to win a signed copy of The Crabtree Monsters and a $50 Barnes & Noble gift card!
One (1) grand prize winner receives:
A signed copy of The Crabtree Monsters and a $50 Barnes & Noble gift card.
Four (4) winners receive:
A signed copy of The Crabtree Monsters.
The Crabtree Monsters Book Giveaway
Related Posts
by