David Delisle
The Golden Quest
Published by
David DeLisle
on June 28, 2022
Source:
Childrens Book Review Tour
Genres:
Juvenile Nonfiction / Comics & Graphic Novels / General
,
Juvenile Nonfiction / Concepts / Money
,
Juvenile Nonfiction / Social Topics / Values & Virtues
Pages:
108
Find the Author:
Website
,
Twitter
,
Facebook
,
Amazon
Buy on Amazon
Goodreads
The Golden Quest is a graphic novel about a young boy who embarks on a Hero's Journey with his dog Shelby to discover the Golden Rules of Money. While on this adventure, he learns about spending, saving, investing, and giving. He also discovers Money Mindfulness and being aware of what's truly important to YOU...The Awesome Stuff. The lessons are universal and will teach children of all ages the secret to a rich life. Your journey awaits...
Review:
The Golden Quest is an interactive graphic novel about a boy sent on a quest to learn about money and the four golden rules of money. Teaching children financial responsibility, where the money comes from, how we get money, and the ways to invest or save it are vital lessons. Children see parents get cash out of ATMs or from a bank but are not always knowledgeable about how that is achieved. Some adult readers sharing this book with younger kids may need to explain some concepts. While some grownups may have different ideas from the author about investing money and how to handle it. The story may inspire you to want to start exciting conversations that dig deeper into the strategies of saving for big purchases or emergencies.
As far as graphic novel illustrations go, this one is outstanding; the attention to detail draws the young readers in who are not always keen on reading large volumes of words on pages. The concept of teaching young children the importance of saving and investing in the book's central vision, and if that opens a dialogue for you to discuss these ideas in the classroom or at home that is a bonus in my book. 
Giveaway: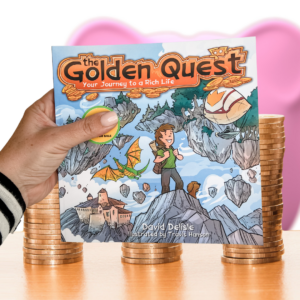 Enter for a chance to win a copy of The Golden Quest!
Four (4) winners receive:
A copy of The Golden Quest: Your Journey to a Rich Life
The Golden Quest: Book Giveaway
Related Posts
by