by
Suzanne Palmer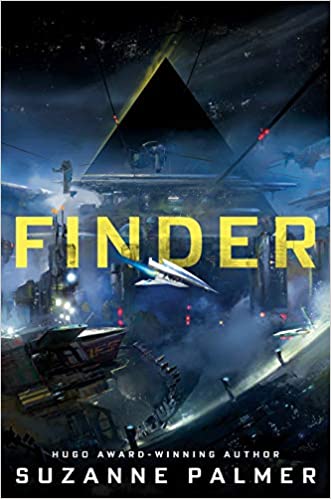 Finder
Series:
Finder Chronicles #1
Published by
Penguin
on April 2, 2019
Source:
Netgalley Arc
Genres:
Fiction / Science Fiction / Action & Adventure
,
Fiction / Science Fiction / Alien Contact
,
Fiction / Science Fiction / Space Opera
Pages:
400
Find the Author:
Website
,
Twitter
,
Facebook
,
Goodreads
,
Amazon
Format:
Ebook Arc
Buy on Amazon
Goodreads

From Hugo Award-winning debut author Suzanne Palmer comes an action-packed sci-fi caper starring Fergus Ferguson, interstellar repo man and professional finder

Fergus Ferguson has been called a lot of names: thief, con artist, repo man. He prefers the term finder.

His latest job should be simple. Find the spacecraft Venetia's Sword and steal it back from Arum Gilger, ex-nobleman turned power-hungry trade boss. He'll slip in, decode the ship's compromised AI security, and get out of town, Sword in hand.

Fergus locates both Gilger and the ship in the farthest corner of human-inhabited space, a backwater deep space colony called Cernee. But Fergus' arrival at the colony is anything but simple. A cable car explosion launches Cernee into civil war, and Fergus must ally with Gilger's enemies to navigate a field of space mines and a small army of hostile mercenaries. What was supposed to be a routine job evolves into negotiating a power struggle between factions. Even worse, Fergus has become increasingly—and inconveniently—invested in the lives of the locals.

It doesn't help that a dangerous alien species Fergus thought mythical prove unsettlingly real, and their ominous triangle ships keep following him around.

Foolhardy. Eccentric. Reckless. Whatever he's called, Fergus will need all the help he can get to take back the Sword and maybe save Cernee from destruction in the process.
Review
Finder is a part heist story, part rescue mission, part comedy of errors with some sarcasm thrown in. Fergus Fergerson has been sent on a mission to repo a sentient ship, but things start very interestingly when he almost dies in a cable car explosion. What happens after is a series of events that cause a war to start, inventions to be, a slider with rainbows, and the kidnapping of a young lady. Fergus pulls out the stops to get back control of the ship makers, and he thinks very quickly on his feet and is a thoroughly enjoyable character. Finder is new me series, but I enjoyed book one and can't wait to read about Fergus's next mission.
Audiobook Sample
Rating Report
Plot
Characters
Writing
Pacing
Cover
Overall:
5
Related Posts