Alexandra Christo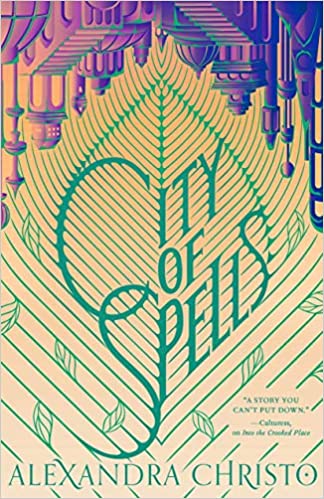 City of Spells
Published by
Feiwel & Friends
on March 9, 2021
Source:
Netgalley Arc
Genres:
Young Adult Fiction
,
Fantasy
,
Dark Fantasy
,
Action & Adventure
,
General
Pages:
352
Find the Author:
Website
,
Twitter
,
Goodreads
,
Amazon
,
Instagram
Format:
Ebook Arc
Buy on Amazon
Goodreads

City of Spells, the follow-up to Alexandra Christo's gritty YA fantasy, Into the Crooked Place, finds the world on the brink of war and four unlikely allies facing sacrifices they had never imagined.
After the loss of Wesley and the horrifying reveal that Zekia is helping the Kingpin of her own free will, Tavia, Saxony, and Karam flee to Saxony's home to rebuild their rebellion. Meanwhile, trapped in the Kingpin's darkness, Wesley must fight against the deadly magic that invades his mind and find a way back to his friends before it's too late.
As the Kingpin's dark magic spreads and his army conquers Creije, these four unlikely friends have to decide just how far they'll go—and how much they are willing to sacrifice—to win.
Praise for Into the Crooked Place:
"With its gangland details, creative magical caste system and surprisingly brutal characters, Into the Crooked Place is very much its own thing. And that thing will likely be a story you can't put down." —Culturess
Review
A satisfying ending to the duology that is magical and timeless. We pick up the story right where we left off into the crooked place. Our evil kingpin Ashwood has discovered some new mind-altering magic that corrupts the cities and controls everyone to remove their free will. They are magic zombies. We are driven by the characters who are compelling and well developed. The magic in this city is highly controlled and supposedly rare, but since this, in the finale, a magical battle must be at the heart of the story, if your a fan of six of crows, pick this duology up today.
Rating Report
Plot
Characters
Writing
Pacing
Cover
Overall:
5
Related Posts
by