Emma Rous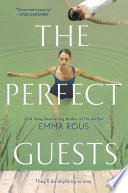 The Perfect Guests
Published by
Penguin
on January 12, 2021
Source:
Netgalley Arc
Genres:
Fiction
,
Gothic
,
Thrillers
,
Suspense
,
Women
Pages:
304
Format:
Ebook Arc
Buy on Amazon
Goodreads

The USA Today bestselling author of The Au Pair returns with another delicious, twisty novel--about a grand estate with many secrets, an orphan caught in a web of lies, and a young woman playing a sinister game.
1988. Beth Soames is fourteen years old when her aunt takes her to stay at Raven Hall, a rambling manor in the isolated East Anglian fens. The Averells, the family who lives there, are warm and welcoming, and Beth becomes fast friends with their daughter, Nina. At times, Beth even feels like she's truly part of the family...until they ask her to help them with a harmless game--and nothing is ever the same.
2019. Sadie Langton is an actress struggling to make ends meet when she lands a well-paying gig to pretend to be a guest at a weekend party. She is sent a suitcase of clothing, a dossier outlining the role she is to play, and instructions. It's strange, but she needs the money, and when she sees the stunning manor she'll be staying at, she figures she's got nothing to lose.
In person, Raven Hall is even grander than she'd imagined--even with damage from a fire decades before--but the walls seem to have eyes. As day turns to night, Sadie starts to feel that there's something off about the glamorous guests who arrive, and as the party begins, it becomes chillingly apparent their unseen host is playing games with everyone...including her.
Review
A solid 4-star mystery thriller set in a Gothic house in the dark of England's fens where a family mystery is waiting for its unveiling to be discovered. Inside this novel, 3 points of view are shared that give clues to the mystery contained within its pages that you must unravel to reveal Raven Hall's truth.
Nina lives at Raven Hall with her mom and dad; Beth is an orphan who recently lost her brother and parents in a car crash. Her aunt caroline is very busy with work, so Beth has been living in an orphanage until her aunt collects to live at Raven Hall with strangers. We are led to believe that the family wanted a companion for their daughter, who suffers from some severe illness. Then Beth meets Jonas, Nina's best friend, instantly connects and soon falls in love with him. Then the grandfather comes to visit, but Nina is too sick to meet him, so the parents kindly ask Nina to dress up and pretend to be their daughter. Beth, not wanting to be sent back to the orphanage, is wholly willing to do whatever it takes to stay at Raven Hall.
In 2019, we met Sadie, who is struggling to keep a job and gladly excepts the position of trying out a murder mystery party at Raven Hall for a weekend. She discovers that 30 yrs ago there was a terrible accident and the house has been abandoned ever since. Soon the past and the future collide in a wildly unexpected way.
The novel ended up being a four for me as the mystery of how the past and present connected began to get convoluted. I almost had to get out paper to keep track of all the information that was being revealed. The twists and turns of how everything is connected are quite cleverly done, and some of it I did not see coming at all. I like the history piece that talks about how the book comes around, and I felt the discussion questions at the back help me write this review and process the whole story. This author is a brilliant writer, and I would like to read more by her.
About the Author
Emma Rous is the USA Today bestselling author of The Au Pair. She grew up in England, Indonesia, Kuwait, Portugal and Fiji, and from a young age she had two ambitions: to write stories, and to look after animals. She studied veterinary medicine and zoology at the University of Cambridge, and worked as a small animal veterinarian for eighteen years before starting to write fiction. Emma lives near Cambridge in England with her husband and three sons, and she now writes full time.
Related Posts
by