by
Melissa Caruso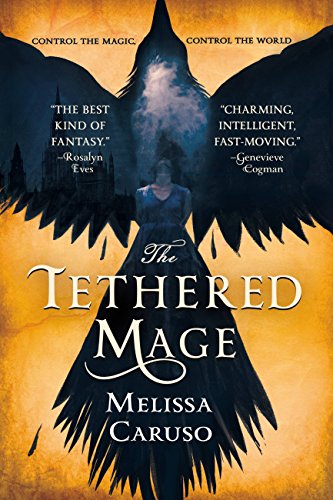 The Tethered Mage
Series:
Swords and Fire #1
Published by
Orbit
on October 24, 2017
Source:
Netgalley Arc
Genres:
Action & Adventure
,
Coming of Age
,
Epic
,
Fantasy
,
Fiction
Pages:
480
Find the Author:
Website
,
Twitter
,
Facebook
,
Goodreads
,
Amazon
Format:
Ebook Arc
Buy on Amazon
Goodreads

The first book in a spellbinding fantasy trilogy for fans of The Queen of the Tearling and The Red Queen, where two young women -- a mage with coveted powers, and the scion of a powerful family -- are magically bound in service to the Empire.Magic is scarce in the Raverran Empire, and those born with such powers are strictly controlled -- taken as children and conscripted into the Falcon army, to be used as weapons in times of war.Zaira has lived her life on the streets to avoid this fate, hiding her mage mark and thieving to survive. But hers is a rare and dangerous magic, one that threatens the entire Empire.Lady Amalia Cornaro was never meant to be a Falconer. Heiress and scholar, she was born into a treacherous world of political machinations.But fate has bound the heir and the mage. And as war looms on the horizon, a single spark could turn their city into a pyre.
The Tethered Mage is the first novel in Caruso's debut series, Swords and Fire.The Swords and Fire seriesThe Tethered MageThe Defiant HeirThe Unbound Empire
Review
This book was marked three years ago on my Goodreads app to read, and it an a backlist e arc on NetGalley and I so glad I finally picked it up to read it. The intricate plot surrounding a magic system of mages with no control or idea has charm and a way for an empire to control them. You have falcons and falconers who are paired, and the falconers contain them with a magic word to release and extinguish the power of their falcon, and the falcons also wear a jess that prevents them from being able to use their power. The world of Eruvia is currently in a state of peace until things are turned upside down when an heir to the empire accidentally paired with a falcon who is about to destroy the city of Raverra. It is an unlikely pair, one who wants to be free, loves her world but is unsure of her place just yet, and some unlikely allies that might spark a romance. I devoured this story and quickly ordered the other books in the trilogy.
Book Trailer
Rating Report
Plot
Characters
Writing
Pacing
Cover
Overall:
5
Related Posts