Kimber Morgan
Embarrassing George
Published by
BOOKBABY
on September 13, 2022
Genres:
Juvenile Fiction / Family / Parents
,
Juvenile Fiction / Humorous Stories
,
Juvenile Fiction / Social Themes / Emotions & Feelings
Pages:
34
Find the Author:
Website
,
Amazon
,
Instagram
Goodreads
Everyone in George's family is so embarrassing. His mom can't cook,

his sister is constantly making kissy faces to her phone, and his brother's

wardrobe consists of nothing but costumes. To top it off, George's dad is

known for going outdoors in his underwear!

Will Family Night at school reveal all of their quirks?

Or will George want to hide under his desk to avoid them?
Review:
Embarrassing George is a sweet and funny story we can all relate to, both kids and adults! Children will love connecting their own family stories to George's family, and will certainly laugh out loud (or, perhaps, knowingly roll their eyes) at their antics. George teaches us that no matter how embarrassing your family is, they will show up for you when it counts. I absolutely recommend this book for children of all ages!
Giveaway: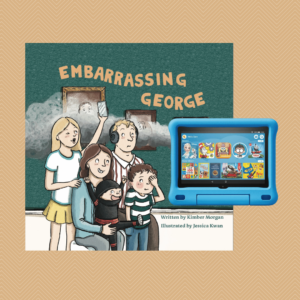 Enter for a chance to win a signed copy of Embarrassing George and a Fire HD 8 Kids tablet!
One (1) winner receives:
– An autographed copy of Embarrassing George
– A Fire HD 8 Kids tablet, 8″ HD display, ages 3-7, 32 GB, Blue Kid-Proof Case
Embarrassing George Book Giveaway
Related Posts
by