by
Jennifer Estep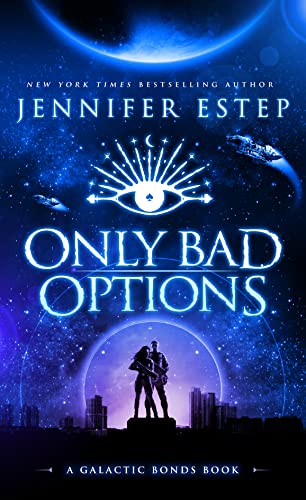 Only Bad Options
Published by
Jennifer Estep
on September 20, 2022
Pages:
398
Find the Author:
Website
,
Blog
,
Twitter
,
Facebook
,
Goodreads
,
Amazon
,
Instagram
Goodreads
New York Times bestselling author Jennifer Estep blasts off with an exciting new science-fiction fantasy adventure with a dash of Regency romance. This action-packed space opera features a mix of magic and technology, along with a soul mates and enemies-to-lovers story. Perfect for fans of Star Wars, Bridgerton, and Pride and Prejudice.

A WOMAN WHO SEES EVERYTHING . . .

Few people know the name Vesper Quill. To most folks, I'm just a lowly lab rat who designs brewmakers and other household appliances in the research and development lab at the powerful Kent Corp. But when I point out a design flaw and a safety hazard in the new line of Kent Corp spaceships, everyone knows who I am-and wants to eliminate me.

I might be a seer with a photographic memory, but I don't see the trouble headed my way until it's too late. Suddenly, I'm surrounded by enemies and fighting for my life.

I don't think things can get any worse until I meet Kyrion Caldaren, an arrogant Regal lord who insists that we have a connection, one that could be the death of us both.

A MAN WHO CAN'T FORGET HIS PAST . . .

The name Kyrion Caldaren strikes fear in the hearts of people across the Archipelago Galaxy. As the leader of the Arrows, the Imperium's elite fighting force, I'm used to being a villain, as well as the personal assassin of Lord Callus Holloway. Even the wealthy Regals who live on the planet of Corios are afraid of me.

But everything changes when I meet Vesper Quill. I might be a powerful psion with telepathic, telekinetic, and other abilities, but Vesper sees far too many of my secrets.

Thanks to an arcane, unwanted quirk of psionic magic, the two of us are forced to work together to unravel a dangerous conspiracy and outwit the dangerous enemies who want to bend us to their will.
Review:
I thoroughly enjoyed reading Jennifer Estep's work over the years, mainly her fantasy crown of Shards and the spin-off. When I found out she did a sci-fi, I wasn't sure how to feel; boy, am I glad I gave it a chance. It, as another reviewer put it a tech fantasy. We have sci-fi (planets, space travel, gadgets, and fantasy (magic, little to no explanation of how the tech works, and bonds magically forming between people. I enjoyed the blend. It works well for Jennifer is a fantasy author in my mind. I like the political conflicts, which I have seen done well in her Crown of Shards books, so I was comfortable watching that play out in this series. I find the bond thing exceptionally intriguing, and I discovered that Vesper's true heart of wanting to fix things prevalent in her character even at the end of this first book. I am sure we are seeing some great inventions in the next book and much more of kyrion.
Related Posts