by
Sarah J. Maas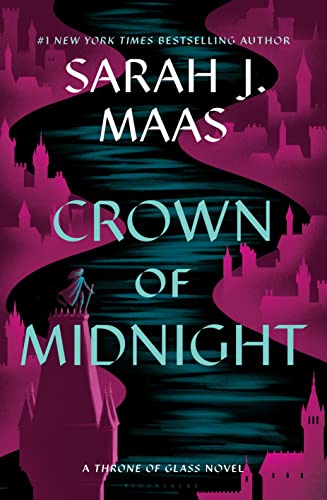 Crown of Midnight
Published by
A&C Black
on August 15, 2013
Genres:
Juvenile Fiction / Fantasy & Magic
,
Juvenile Fiction / Love & Romance
,
Young Adult Fiction / Action & Adventure / General
,
Young Adult Fiction / Fantasy / Epic
,
Young Adult Fiction / Fantasy / General
,
Young Adult Fiction / Romance / General
Pages:
336
Find the Author:
Website
,
Facebook
,
Goodreads
,
Amazon
,
Instagram
Goodreads
The action-packed, heart-wrenching and fantastically addictive sequel to Sarah J. Maas's epic fantasy debut THRONE OF GLASS.

Eighteen-year-old Celaena Sardothien is bold, daring and beautiful – the perfect seductress and the greatest assassin her world has ever known. But though she won the King's contest and became his champion, Celaena has been granted neither her liberty nor the freedom to follow her heart. Celaena faces a choice that is tearing her to pieces: kill in cold blood for a man she hates, or risk sentencing those she loves to death. Celaena must decide what she will fight for: survival, love or the future of a kingdom. Because an assassin cannot have it all ... And trying to may just destroy her.
Review:
Crown of Midnight takes a step away from the romantic drama of its predecessor and opens up a more significant and bloodier story. Celaena explores all aspects of what it means to be an assassin in this book; she is tested constantly, and you can see her growing, changing, and learning as the story progresses. And this story is one tumultuous journey of extremely high ups and unbelievably low downs, with Celaena taking relationships to all new levels and watching others fall apart. Old enemies resurface, and we start to get a glimpse of just how big the picture Maas is painting for us is.
Related Posts