by
Maria Grace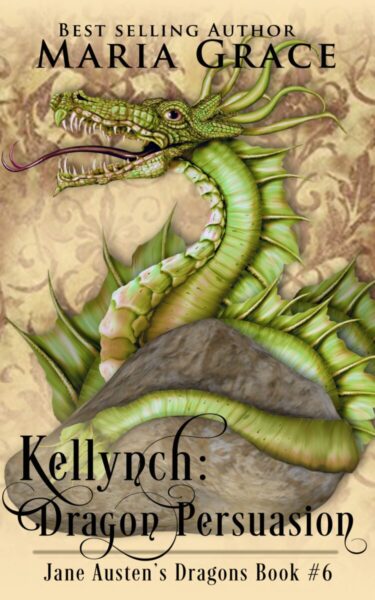 Kellynch Dragon Persuasion
Length:
14 hours and 10 minutes
Published by
White Soup Press
on July 9, 2020
Genres:
Fiction / Fantasy / General
,
Fiction / Mashups
Pages:
522
Find the Author:
Website
,
Twitter
,
Facebook
,
Goodreads
,
Amazon
,
Pinterest
Goodreads
Keeping a hibernating dragon should have been a simple thing. Should have been, but it was not. Apparently, nothing involving dragons was ever simple, at least not for Anne Elliot, junior Keeper to dragon Kellynch. With the estate in debt, Anne's father in denial, and the dragon's treasure missing, Kellynch's awakening is shaping up to be nothing short of catastrophe. Not to mention, there was the pesky matter of her own broken heart and resentment against the old friend who had caused it. Captain Frederick Wentworth had spent his life making something of himself in the Navy. With the war that kept him employed at an end and a small fortune in prize money, he found himself beached and at loose ends. What was he to do with himself now-take a wife like Laconia, his dragon Friend, insisted? Not when none compared to the woman who had broken his heart. Working as an agent of the Blue Order, managing dragon matters across England, seemed a much better alternative. At least until investigating one such matter sent him directly in the path of Anne Elliot, the woman who had ruined him for all others. Now a royal dragon rages, a sleeping dragon lurks, and too many treasures have gone missing. Can Anne and Wentworth lay aside resentment, pride, and heartbreak to prevent Kellynch's awakening from ending in bloodshed-or worse?Jane Austen meets Pern in a fantastical regency romp bound to delight readers of Jane Austen and Anne McCaffrey alike. Book 6 in the Jane Austen's Dragons series.
Review:
I am delightedly amazed at how Maria Grace weaves a world of Dragons into Jane Austen's stories. She keeps things very true to the characters while fleshing them and their world out with her additions and changes. A fantastic twist on Jane Austen's Persuasion, full of dragons, wonderful and terrible characters, romance, and partnership that is weaved so wonderfully that it is a delight for ears to enjoy. This book was a joy to read! Benjamin Fife did an excellent job with the narration. As always, I cannot imagine anyone else voicing the dragons.
Related Posts