by
Susan Dennard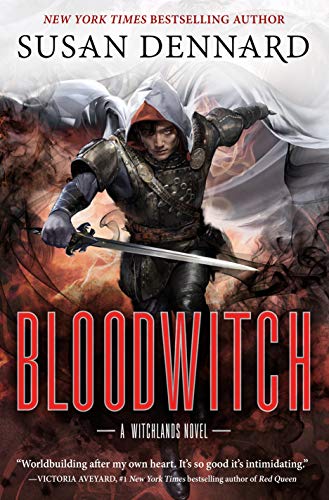 Bloodwitch
Narrator:
Cassandra
Length:
18 hours
Series:
Witchlands #3
Published by
Tom Doherty Associates
on February 12, 2019
Source:
Library Auidobook
Genres:
Young Adult Fiction / Fantasy / Epic
,
Young Adult Fiction / Fantasy / Wizards & Witches
Pages:
464
Find the Author:
Website
,
Twitter
,
Facebook
,
Goodreads
,
Amazon
,
Instagram
,
Pinterest
Format:
Audiobook
Buy on Amazon
Goodreads

Susan Dennard's New York Times bestselling, young adult epic fantasy Witchlands series continues with the story of the Bloodwitch Aeduan.

Aeduan has teamed up with the Threadwitch Iseult and the magical girl Owl to stop a bloodthirsty horde of raiders preparing to destroy a monastery that holds more than just faith. But to do so, he must confront his own father, and his past.

"Worldbuilding after my own heart. It's so good it's intimidating."—Victoria Aveyard, #1 New York Times bestselling author of Red Queen

The Witchlands
#1 Truthwitch
#2 Windwitch
#3 Bloodwitch
Sightwitch (illustrated novella)
Review
Bloodwitch, out of all four books, the three mains ones, and the novella Sightwitch, this one right here, with Iseult, Aeduan, Owl, and a bat named Blueberry, is the one that stabbed me right in the heart, left me tear-streaked and dying to know what comes next. We all are speckling on what the next book title will be, and rumors abound that it will be about Iseult.
This book does what every good book should do leaves each chapter with you gasping for breath and flipping pages wanting more and more, never wanting to put the book down till the wee hours of the morning. You lay it down, and you grasp what-what I need more, and you cry and grieve that you have to wait.
Sometimes I can find it hard to follow a story with multiple POVs to keep track of but not with this story, especially since each book has one that takes the lead, so your not left stumbling around trying to figure out where the story is going. The blood carries the information as we find out how much his power takes from even from the moments of his birth. Unlike any other, he has an energy that makes those around him treat him as a demon.
What made this one the winner was how through all of this pain and loss, our blood witch endures. Right at the very end of the book, you see him grasp the theme that he no longer alone he is now we. The addition of the owl and her bat, Blueberry, really strengthened the outlook of hope for Aeduan. He determined that he will no longer be a pawn for his father, who finally knows he is the Raider King.
You may feel that not a lot happens to move the plot along in this third book, but the reveals about the characters' backstory are all the hints you need to see where this story is hopefully going. Excited to read the next book in this fantastic well thought out story
Audiobook Sample
Rating Report
Plot
Characters
Writing
Pacing
Cover
Overall:
5
Related Posts