by
Addie thorley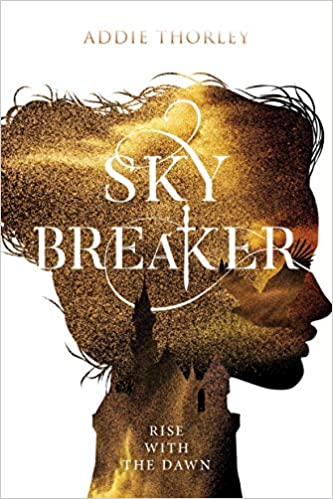 Sky Breaker
Published by
Page Street Publishing
on May 4, 2021
Source:
Netgalley Arc
Genres:
Dark Fantasy
,
Fantasy
,
Loners & Outcasts
,
Monsters
,
Royalty
,
Young Adult Fiction
Pages:
432
Find the Author:
Website
,
Twitter
,
Goodreads
,
Amazon
,
Instagram
Format:
Hardcover
Buy on Amazon
Goodreads

Wicked Saints meets the Grishaverse in this stunning and relentless conclusion to the Night Spinner duology
Enebish has been deceived by everyone she once considered a friend. On the run across the tundra, her only allies are her best friend Serik and a band of ill-tempered shepherds. Her only hope of bringing peace to Ashkar is to unite the people of the Protected Territories and make a stand against the tyrannical Sky King and the hostile nation of Zemya. But that's easier said than done. As supplies dwindle, the shepherds become far more desperate for food than freedom.
Meanwhile, Zemyan forces have stormed the Ashkarian capital. Imperial Army Commander Ghoa throws all of her power into a last-ditch effort to save her king, only to be abandoned by her fellow warriors. Held captive in a prison forged of magic and tortured by the zealous sorcerer Kartok, Ghoa learns his true ambitions lie far beyond the warring countries—he wants vengeance on the gods themselves.
The war between Ashkar and Zemya began centuries ago as a feud amongst the gods. Now it's up to the two most hated people on the continent—the monstrous outcast, Enebish, and the notorious war criminal, Ghoa—to heal that spiritual divide before Kartok brings the skies crashing down on all of them.
Review
Sky Breaker is the satisfying continuation and completion of the night spinner duology. Serik and Enebish are on the grasslands leading the Shepards in search of a displaced king. Much of the novel centered around the Shepard's having no trust in Enebish and her night spinning ways but have total faith in Serik, who has discovered the first gods have no forsaken him as he thought they did. Ghoa has some eye-opening experiences in this sequel, and the ending, while eluded throughout the whole novel, did not play out quite as I expected it to play out. I have to say I enjoyed Night Spinner more than the sequel, but the two together make for quite a compelling retelling.

Rating Report
Plot
Characters
Writing
Pacing
Cover
Overall:
4
Related Posts