by
Julianne MacLean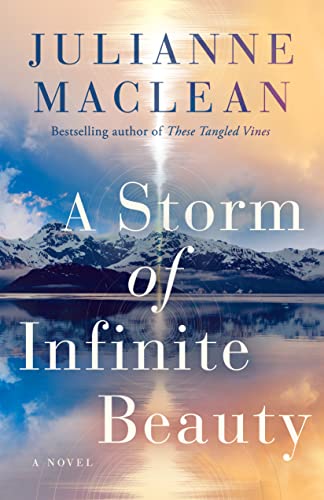 A Storm of Infinite Beauty
Published by
Amazon Publishing
on September 1, 2023
Genres:
Fiction / Family Life / General
,
Fiction / Historical / General
,
Fiction / Women
Pages:
300
Find the Author:
Website
,
Twitter
,
Facebook
,
Goodreads
,
Amazon
Goodreads
From the bestselling author of Beyond the Moonlit Sea comes an atmospheric tale of how one woman's search for the truth uncovers long-hidden secrets and rocks the very foundation of her world.

Scarlett Fontaine is a true Hollywood legend--a singer, actress, and beloved fashion icon. But Scarlett dies tragically at just thirty-six years old, leaving behind no children. Or so the story goes...

Gwen Hollingsworth is the curator at a museum dedicated to Scarlett's life. She's also sole heir to Scarlett's fortune as a descendant of the star. But all is not well in Gwen's world. She's dealing with a messy marital separation and is struggling to move forward. So when Peter Miller, a biographer and photojournalist, comes to the museum with shocking claims about Scarlett--a life of exile in Alaska, a baby born in secret--Gwen's whole world is turned upside down. Again.

Determined to uncover the truth, Gwen and Peter set out for Alaska together but soon find themselves on a path toward something far deeper and more meaningful than either of them ever expected.

A Storm of Infinite Beauty takes readers on a breathtaking journey from a lush vineyard in Nova Scotia to a rustic lodge in Alaska where old family secrets are revealed and the quest for true happiness begins.
Review:
A Storm of Infinite Beauty is told between two timelines: the past events that led up to the tragic Alaskan earthquake and 2017 when a distant relative is trying to unravel the clues to a lost year for a famous relative. I was wrapped up in the story from the first page as we learn that this young woman is being manipulated by her father into having her baby far from home and just expected to give it up and return to life as if nothing happened. The tragic events that unfolded with the earthquake are told in this narrative in a way that makes you feel for those affected by it and how the story takes a turn. It is a great story involving romance, some detective work, and dealing with various emotions due to life's harsh reality. As a reader, you will be happy to know the ending is highly satisfying after digesting some of the heartache in the story. A great new book for this fall.
Related Posts