Jay Dee
Space Baby
Published by
David Kraine
on January 5, 2022
Find the Author:
Website
,
Amazon
Goodreads
When Angelic hears that Daddy spread his love for her around the whole universe, she worries she hasn't done the same for her baby brother. Only one thing to do! Brother and sister rocket into the night sky to explore the universe in search of the most awesome thing there. "Space Baby Salute!"
Review:
Space Baby by Jay Dee is a book dedicated to love, and you will feel this on each page of this beautifully illustrated story. Angelica discovers that her daddy has spread her love for her all over the universe, so she sets out to share the same with her baby brother. Space baby will be a favorite with those curious about the world beyond Earth, the planets, moons, and all the uniqueness of space. I found the illustrations to be the best part, and the expressions of our characters to share feelings are spot on. What a great book to open up talks about types of love, how we show it, and some education about space as well.
Giveaway: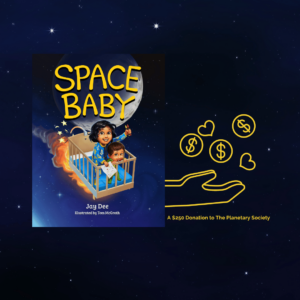 Enter for the chance to win an autographed copy of Space Baby and a $250 donation to The Planetary Society and its mission to increase discoveries in our Solar System, elevate the search for life beyond our planet, and decrease the risk of Earth being hit by an asteroid.
One (1) grand prize winner receives:
A signed copy of Space Baby
A $250 donation made in your name to The Planetary Society and its mission to increase discoveries in our Solar System
Nine (9) winners receive:
A signed copy of Space Baby
Related Posts
by