Jessica S. Olson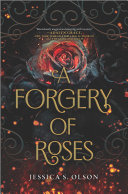 A Forgery of Roses
Published by
Harlequin
,
Inkyard Press
on March 29, 2022
Source:
Netgalley Arc
Genres:
Young Adult Fiction / Art
,
Young Adult Fiction / Fantasy / Historical
,
Young Adult Fiction / Fantasy / Romance
,
Young Adult Fiction / Historical / Europe
Pages:
304
Find the Author:
Website
,
Twitter
,
Goodreads
,
Amazon
,
Instagram
,
Pinterest
Format:
Ebook Arc
Buy on Amazon
Goodreads
From the author of Sing Me Forgotten comes a lush new fantasy novel with an art-based magic system, romance, and murder…

Myra has a gift many would kidnap, blackmail, and worse to control: she's a portrait artist whose paintings alter people's bodies. Guarding that secret is the only way to keep her younger sister safe now that their parents are gone. But one frigid night, the governor's wife discovers the truth and threatens to expose Myra if she does not complete a special portrait that would resurrect the governor's dead son.

Once she arrives at the legendary stone mansion, however, it becomes clear the boy's death was no accident. A killer stalks these halls--one disturbingly obsessed with portrait magic. Desperate to get out of the manor as quickly as possible, Myra turns to the governor's older son for help completing the painting before the secret she spent her life concealing makes her the killer's next victim.
Review:
The mysterious disappearance of parents, unique magic system connection to painting, the murder of a famous royal, and a pair of siblings desperate to survive are the themes you find embedded in the pages of A Forgery of Roses. You won't be able to put this excellent enchanting novel down tell you have unraveled who murder the famous will and whether or not Myra will end up with the brother, save her sister and find her parents. I was engaged the entire time I read this book, and the attention to detail that the author painted on the pages as the Prodigies painted was done so well. I have not read her other book yet, but now I want to go back and see if it is just as unique as this one.
Related Posts
by