by
Sean March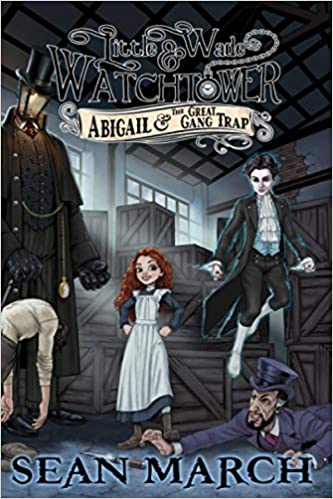 Little Wade and Watchtower: Abigail and the Great Gang Trap
Series:
Little Wade and Watch Tower #1
Published by
Sean March
on October 17, 2020
Pages:
382
Find the Author:
Website
,
Twitter
,
Facebook
,
Goodreads
,
Amazon
,
Instagram
,
Pinterest
,
Tumblr
Goodreads
"There's a legend for children who are sad and who cry,About a little boy ghost, dressed in black, who can fly,About a big, metal giant who stands sky highThey'll always help you and they'll never lie." Abigail Reid just wants to go to school and get an education. A poor farm girl who only recently moved to New York from the country, she quickly learns that New York City can be a very dangerous place.Her mother recently passed away from fever.Her father works three jobs to support them.The Longshadows, the ruthless gangsters that control her neighborhood, have her surrounded, but just when Abigail thinks she is all alone, she meets LITTLE WADE AND WATCHTOWER! With their help, Abigail will discover that she is far braver and more capable than she ever imagined and that New York City can be a wonderful place.Together, they plan to set The Great Gang Trap and rid her neighborhood of the Longshadows once and for all!Unfortunately, the Longshadows are not the only threat in New York.
Review
Abigail and the Great Gang trap is an imaginative middle-grade story with absolute truth, hope, and creative friends. Abigail and her dad are forced to give up country life and move to New York City for better opportunities in education and work. Unfortunately, they live in a neighborhood filled with gangs that snatch young children off the street. One night Abigail is late leaving her job and is accosted by some gang members but is recused by a fantastic duo called little wade and watch tower.
The author has taken all to a common problem: children being able to navigate the world safely and parents having to work more than they want to provide. Abigail's father is not a bad dad, but he needs to work to keep them in a home, and Abigail works as well as attending school; both are made more difficult by the gangs. The author takes this problematic issue and puts a creative twist on it with the creativity of Little Wade, a ghost, and his fantastic friend Watchtower. The characters in this story are creative, and the simple story brings a lot of hope and positive messages to those who pick it up. I thoroughly enjoyed this tale and can not wait to see what else this author has in store for us.
Related Posts