by
Joelle Charbonneau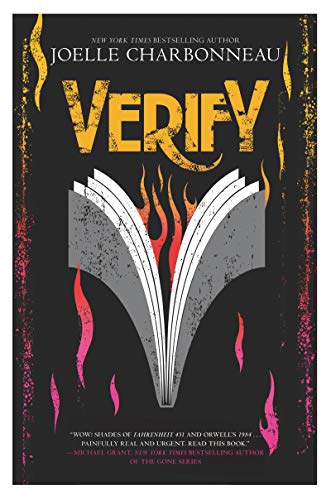 Verify
Narrator:
Caitlin Kelly
Length:
10
Series:
Verify #1
Published by
HarperCollins
on September 24, 2019
Source:
Library Auidobook
Genres:
Young Adult Fiction / Dystopian
,
Young Adult Fiction / Family / Parents
,
Young Adult Fiction / Politics & Government
,
Young Adult Fiction / Social Themes / Violence
Pages:
336
Find the Author:
Website
,
Twitter
,
Facebook
,
Goodreads
,
Amazon
,
Instagram
Format:
Audiobook
Buy on Amazon
Goodreads
"Wow! Shades of Fahrenheit 451 and Orwell's 1984. Painfully real and urgent. Read this book." —Michael Grant, New York Times bestselling author of the Gone series

Bestselling author Joelle Charbonneau's eerily timely, high-stakes page-turner is destined to start important conversations at this particular moment in our history.

Meri Beckley lives in a world without lies. When she looks at the peaceful Chicago streets, she feels pride in the era of unprecedented hope and prosperity over which the governor presides.

But when Meri's mother is killed, Meri suddenly has questions that no one else seems to be asking. And when she tries to uncover her mother's state of mind in her last weeks, she finds herself drawn into a secret world with a history she didn't know existed.

Suddenly, Meri is faced with a choice between accepting the "truth" or embracing a world the government doesn't want anyone to see—a world where words have the power to change the course of a country and where the wrong ones can get Meri killed.
Review
A purely dystopian story centers around the idea that people have had words so erased that when they see them, they have no idea what they mean. Our main character comes across the word verify and looks it up only to trigger an alarm and finds out just how much she did not know about her mom and what has been happening in her world. I enjoyed the book and would love to read the sequel reminded me of all rights reserved.
Related Posts