Alexandra Bracken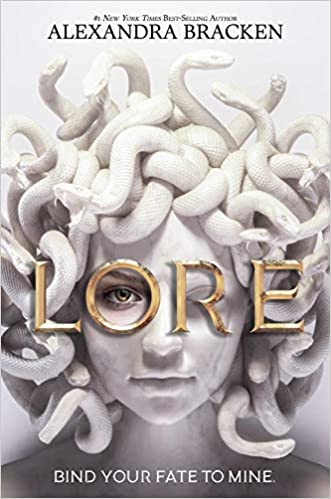 Lore
Published by
Disney-Hyperion
on January 5, 2021
Source:
Netgalley Arc
Genres:
Young Adult Fiction
,
Action & Adventure
,
General
,
Fantasy
,
Contemporary
,
Greek & Roman
Pages:
480
Find the Author:
Website
,
Blog
,
Twitter
,
Facebook
,
Goodreads
,
Amazon
,
Instagram
,
Pinterest
,
Tumblr
Format:
Ebook Arc
Buy on Amazon
Goodreads

From the #1 New York Times best-selling author of The Darkest Minds comes a sweepingly ambitious, high-octane tale of power, destiny, love, and redemption.

Every seven years, the Agon begins. As punishment for a past rebellion, nine Greek gods are forced to walk the earth as mortals. They are hunted by the descendants of ancient bloodlines, all eager to kill a god and seize their divine power and immortality.

Long ago, Lore Perseous fled that brutal world, turning her back on the hunt's promises of eternal glory after her family was murdered by a rival line. For years she''s pushed away any thought of revenge against the man--now a god--responsible for their deaths.

Yet as the next hunt dawns over New York City, two participants seek her out: Castor, a childhood friend Lore believed to be dead, and Athena, one of the last of the original gods, now gravely wounded.

The goddess offers an alliance against their mutual enemy and a way to leave the Agon behind forever. But Lore''s decision to rejoin the hunt, binding her fate to Athena''s, will come at a deadly cost--and it may not be enough to stop the rise of a new god with the power to bring humanity to its knees.
Review
Lore is a fantastic thrill ride story full of mythology that will not appeal to everyone, but I, for one, loved it. What may not appeal to most is the level of violence for a book promoted in the Young Adult category. While this can work for teens, I think it should be geared much more towards 17 and older. Not only is there an overload of violence their also mention of rape as well. Now that we got all the trigger info out their let's get to my review.
If you love stories surrounding Gods and battles for control of the world, Lore will work out as a fantastic read. The interwoven twists and turns in this story, along with a sweet romance and battles galore, make this a very intense read.
The story centers around Lore, who has lost everything due to this insane royal battle called the Agon that happens every seven years. Lore wants it all to be over, and she may very well know the answer to how to end it all. A very entertaining read for lovers of Greek mythology; you will not be disappointed.
"It not always the truth that survives but the stories we wish to believe. The Legends Lie." Check out my review of Lore by @alexbracken
Click To Tweet
Rating Report
Plot
Characters
Writing
Pacing
Cover
Overall:
5
Related Posts
by