Julie Kagawa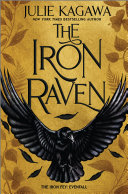 The Iron Raven
Published by
Harlequin
on February 9, 2021
Genres:
Young Adult Fiction
,
Fairy Tales & Folklore
,
Adaptations
,
Fantasy
,
Contemporary
,
Paranormal
,
Romance
,
Paranormal
Pages:
304
Find the Author:
Twitter
,
Goodreads
,
Amazon
,
Instagram
Goodreads
Wicked faeries and fantastic danger… Welcome to book one of the new trilogy in New York Times bestselling author Julie Kagawa's Iron Fey fantasy series, as infamous prankster Puck finally has a chance to tell his story and stand with allies new and old to save Faery and the world. For fans of Holly Black and Cassandra Clare!
"YOU MAY HAVE HEARD OF ME…"
Robin Goodfellow. Puck. Prankster, joker, raven, fool… King Oberon's right-hand jester from A Midsummer Night's Dream. The legends are many, but the truth will now be known, as Puck finally tells his own story and faces a threat from a time before Faery began. A threat that brings him face-to-face with a new enemy…himself.
With the Iron Queen Meghan Chase and her prince consort, Puck's longtime rival Ash, and allies old and new by his side, Puck begins a fantastical and dangerous adventure not to be missed or forgotten. Evenfall is coming, and with it a reckoning that even their combined powers and wits may not vanquish, as a shadow falls over the lands of Faery and the world slips into chaos.
THE IRON FEY: EVENFALL
BOOK 1
Review
It been a long time since i been on a trip to the summer court, winter court, forogtten and iron realm. In this wonderful new additon to the wonderful fey tales from Julie Kagawa we get the opprtunity to see more of the iron realm, hang out with the amaing characters you know and love from the series. In this series Puck (robin goodfellow) gets to take center stage it the novel perfect for the start of 2021.
If furball doesn't even know what we're dealing with, none of the courts will either. But i do agree with one thing-that monsters needs to die. No one makes me shaggy and honey without my permission.-puck #theironraven
Click To Tweet
Related Posts
by