Lori Adams
Avalina Jones
Published by
Spyhop Publishing
on November 23, 2021
Source:
Childrens Book Review Tour
Genres:
Juvenile Fiction / Action & Adventure / Pirates
,
Juvenile Fiction / Fantasy & Magic
,
Juvenile Fiction / Mysteries & Detective Stories
Pages:
366
Find the Author:
Website
,
Blog
,
Twitter
,
Facebook
,
Goodreads
,
Amazon
Format:
Ebook Arc
Buy on Amazon
Goodreads
"Adams' pirate-centric story teems with entertaining bits of magic. . . A well-crafted, supernatural pirate tale with a capable, young hero." KIRKUS REVIEWS

"This novel is packed with creativity. Lori Adams has outdone herself in describing the magical ship and all of its components. . . I really enjoyed the story of Avalina Jones and her pirate adventure. . .any Hogwarts fans might find themselves equally enthralled by Avalina and her time aboard the Aquatiery." SAN FRANCISCO BOOK REVIEW

When a young girl learns she is the Last Heir of the infamous pirate Davy Jones, she is whisked away to begin life aboard an enchanted schoolship for Pirate Heirs where danger and excitement awaits.

Contemporary kids who happen to be Heirs of the most villainous and celebrated pirates in history. Superstitions, mysteries, curses, secrets, strange ocean creatures, undead pirates, and seafaring legends will thrill middle-grade readers in this rollicking, globe-trotting adventure.

Avalina Jones, the Last Heir of the infamous pirate Davy Jones, has never heard of Sea Magic, flying dinghies, Pirate Heir schoolships, phantom islands, undead pirates, or creatures called Half Ones. And she has never understood her strange connection to water. But when a beautiful woman arrives in a swirling waterspout, Avalina's life explodes with more adventures than she can possibly imagine. She takes her rightful place aboard a giant Pirate Heir schoolship teeming with Heirs of the world's most nefarious pirates.

Raised as a Landlubber, Avalina quickly realizes bizarre and danger are normal aboard Pirate Heir schoolships-food fights back, school supplies giggle or explode in your face. And not everyone can be trusted.

When Avalina is accused of a terrible crime, she must prove her innocence or risk being banished from the schoolship forever-and this in the middle of a crucial Treasure Hunt!

Avalina races to unlock secrets of the ship, and makes a dangerous discovery that threatens everyone aboard. With the help of her new friends Charlie, Pippa, and Bummy, Avalina draws closer to the truth, unaware that a deeper, darker fate awaits.

Worlds collide for middle-grade readers who will love the fast-paced thrills, colorful characters, secrets, legends, and the interplay of fantasy and reality in Avalina Jones and the Eye of the Storm. Author Lori Adams expertly delivers a story that is timeless, bringing together elements of sea lore, magic, and adventure. The first book in a seven-book series, Avalina Jones and the Eye of the Storm, is a romping tale for middle graders who are searching for the next enduring fantasy classic.

"The book has mystery and excitement and a very entertaining plot I had a hard time putting it down I liked it so much. I really liked this book. I have never heard about anything like this. The idea of a pirate school ship is a brilliant one." NETGALLEY REVIEWER, KIERAH K.


Review
Avalina Jones is a ten-year-old orphan with no knowledge of her past. One night after finding out she is no longer safe at the orphanage, she sets out on a fantastic adventure embracing her past and what is to come in her future. This book has it all for readers who like middle-grade pirate stories, turns out Avalina is the heir of Davy Jones, and she is taken away to a particular school for pirates, who thought there be something this cool, and here she learns that there a curse upon her. Avalina is bold, brash, and a bit of a troublemaker at times, but she is also compassionate and curious. As the heir of a pirate, she is not afraid to stand up for what is right and get her hands dirty in the process. Avalina Jones and The Eye of The Storm is the first of 7 book series, so there is much more to discover about Avalina and her trusty band of pirates.
Giveaway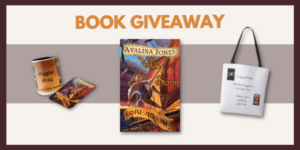 Enter for a chance to win an Avalina Jones and the Eye of the Storm prize pack!
One (1) grand prize winner receives:
An autographed copy of Avalina Jones: And the Eye of the Storm
An Avalina Jones quote tote
A Hands-Off Me Gigglin' Grog mug
An Avalina Jones fridge magnet
An Avalina Jones bookmark
Two (2) winners receive:
An autographed copy of Avalina Jones: And the Eye of the Storm
An Avalina Jones bookmark
Related Posts
by