Alicia Mofford
The Sun Plays with the Moon
Published by
Green Emerald Publishing
on March 30, 2022
Source:
Childrens Book Review Tour
Pages:
24
Find the Author:
Website
,
Amazon
Buy on Amazon
Goodreads
The Sun Plays with the Moon tells an imaginative story of the Sun's and the Moon's journey around the Earth. This rhyming story with vibrant pictures will keep children engaged and admire the magic of our solar system. A message of friendship despite differences is throughout the storyline while children discover what eclipses are, how they appear to us from Earth, and the importance of the solar and lunar cycles.

Great for children ages 3-10 years old. Perfect for bedtime!

Teaches children about:

Friendship despite differences
Eclipses during the day and at night
Introduces children to the lunar and solar cycles
How the Sun and the Moon impact plants, animals, and Earth

A great book for parents who are looking for:

Books about the Sun and the Moon
Educational books
Colorful and imaginative pictures
Books that rhyme
Great quality prints that are lasting
A hardcover book to introduce to younger children
A thoughtful gift
Beautiful bedtime story

Purchase now and discover the best parts of the Sun and the Moon.
Review:
Children are curious by default; it is how they learn about the world around them, and we as adults may not always have the best explanation that isn't overly complicated. That is where books come into play; they usually have a great way of saying something that we as adults overthink. The sun plays with the moon and takes the question that a child might ask about eclipses which is a beautiful astronomical event. The book lays the concept of how the sun and moon interact together and shares in simple terms what happens during an eclipse, when they can occur, and the benefits of the sun and moon interactions.
The illustrations in the book make the concepts that can be complicated, easy, and simple to understand. The book, I think, also can help with fears a young child might have about the world going dark, the sun going dark, or the moon looking odd. It is a regular occurrence that can happen anytime, and there is nothing to fear. I, for one, am thankful for books when I am unsure what to say.
Giveaway: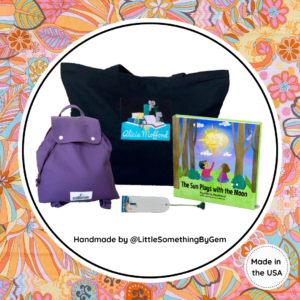 Enter for the chance to win a tote, a book bag, a book-marker, and a signed hardcover copy of The Sun Plays with the Moon. The bags are handmade in the USA.
One (1) grand prize winner receives:
– A tote (Handmade in USA)
– A book bag (Handmade in USA)
– A book-marker
-A signed hardcover copy of The Sun Plays with the Moon
Four (4) winners receive:
– A signed hardcover copy of The Sun Plays with the Moon
The Sun PLays with the Moon Book Giveaway
Related Posts
by